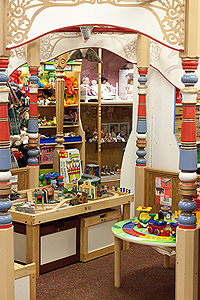 Kinder Haus Toys is an old-fashioned store that stands for service, selection, and style. The array of high quality children's products includes toys, books, hobbies, crafts, clothes, shoes, and sporting goods. The toys are, for the most part, powered by imagination -- not batteries. Many are made out of wood. Many are educational as well as fun. Our store specializes in wood, with such toy lines as Plan, Haba, Melissa and Doug, Nilo, and RC2. We also carry great plush lines such as Gund, doll lines such as Corolle and Madame Alexander. The wonderful and life-like Folkmanis Puppets are not to be missed. Although most toys are made in Asia (and we have many excellent examples), we're making an effort to highlight made-in-the-USA lines such as Lauri puzzles and games and Uncle Goose block wagons. We are also highlighting Plan toys that are made in Thailand, and Haba that is for the most part made in Germany.
Commitment to Community
Kinder Haus Toys has a long record of community involvement. Not only do we contribute merchandise to fundraisers for organizations and schools whenever possible, we also hold many free events for families to enjoy, such as our Arts & Crafts activities and Storytime on Mondays and Fridays. Sue Pyatt and her family have owned the store since 1982. She says, "My children grew up in the store and so did many other kids in Arlington." Sue is the author of two popular children's books that she hopes every aspiring young lady will consider. Call Me Madame President and President Amanda's Whistle-stop Trip are about a little girl who dreams of being president of the United States.